CNC Punching And Drilling Compound Machine
CNC Punching And Drilling Compound Machine
Brand :Tuowei CNC
Product origin :Jinan,China
Delivery time :30-150 Days
Supply capacity :Depending on the product
1. Adopt the way of workpiece clamping and positioning along the linear guide to ensure that all hole centers are in a straight line after processing;

2. Using multiple clamping cylinders to clamp the workpiece, the clamping force is large, reliable and stable to ensure that the workpiece does not vibrate during the drilling process;

3, The drilling unit uses the frequency conversion motor to drive the high-speed spindle, the rotation speed is high and there is no pole adjustable;

4. The drill bit adopts a U-drill with steps, and the bottom hole and the tapered step hole are drilled once;

5, Cooling adopts internal cold spray cooling, energy saving and environmental protection.
CNC drilling complex machine
Buy Punching Machine Online

Cnc Turret Punching Machine is a high-efficiency, high-precision equipment for curved blades on construction machinery.
Cnc Turret Punching Machine feeding, positioning, drilling, punching and fault alarming of the sheets can all be done automatically by the CNC system.
Technical process:
Prepare the program → Adjust the positioning device → Place the material on the loading table → Clamp the workpiece → Position the CNC axis to the drilling hole → Drill the hole → Position the CNC axis to the second hole...→ CNC axis positioning to punching → punching → punching the last hole → workpiece release → cutting
This equipment is mainly composed of main machine bed, drilling unit, punching unit, feeding table, clamping device, cooling system, electrical system and hydraulic system.
| | |
| --- | --- |
| Punching force | 1700KN |
| Workpiece size | 2500x210x26mm |
| drill | 1 |
| punch | 1 |
| Continuous punching frequency | 40/min |
| Max.drill diameter | 40mm |
| Mainshaft speed | 50-200r/min |
| Control shaft | 2 |
| power | 50KW |
| Air pressure | 0.55MPa |
| Dimension | 8x3.4x2.7m |
| weight | 8,000kgs |
Recommend the same type of product
Big Punching Machine, China Puncher Machine, COMPK Car Flat CNC Punching Production Line.
Factory Show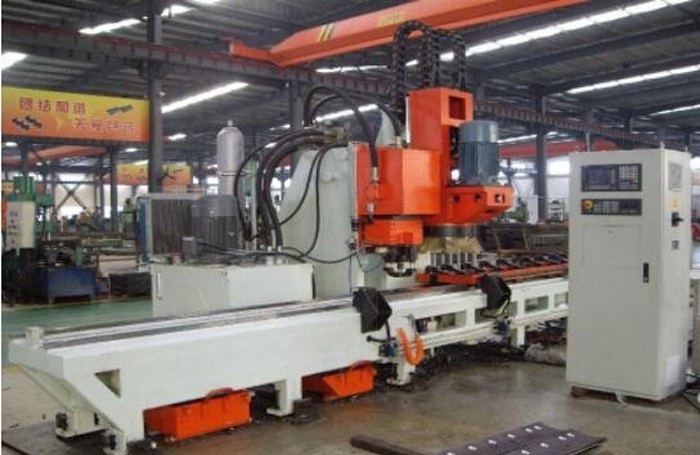 Please feel free to give your inquiry in the form below. We will reply you in 24 hours.